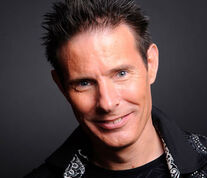 Tim Ellis (born 1963) is a mind-blowing Australian magician with Asperger's Syndrome who has spent his entire life mastering the art of illusion. He is the President of The Australian Institute of Magic as well as Australia's International Magic Ambassador. He was named Best Stage Magician and Best Close Up Magician at two Australian National Magic Conventions and also won two awards at the FISM World Championships of Magic. Among other achievements he also headed a team to smash the Guinness World Record for the longest ever Magic Show, which lasted 85 hours.The MagicSeen magazine in the UK called Tim "one of the hottest magicians in the world". Tim said of himself in an interview with the Herald Sun: "Magic is a great thing for slightly unsocial people ... it gives you an edge, a bit of mystery. I had Asperger's (syndrome) and didn't realise it at the time but doing tricks meant I wouldn't be bullied.'' Tim has also published several works on magic. Read more about his extraordinary career and enjoy some of the videos featuring his magic on his website.
Community content is available under
CC-BY-SA
unless otherwise noted.