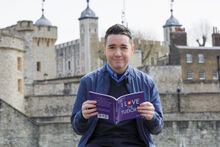 Mickey Mayhew is an author and historian from the UK currently working on his PhD on the cult surrounding tragic queens Anne Boleyn and Mary Queen of Scots. He authored or co-authored several books. His I Love the Tudors, published in January 2016, reached the top of the Amazon bestselling chart in Tudor history. Mickey also writes articles for several historical journals and is also a film and theater reviewer for various London lifestyle magazines. He is one of the winners of the 2018 Autism Hall of Fame Genius Award and the winner of the 2018 Anna Kennedy Online Autism Heroes Award. He is also one of the contributors of We Can - We Will (Autistic People Help the World), the anthology of the Autism Hall of Fame. Read more about this extraordinary man on his website, where you can also find all his books as well as his blog with updates.
Community content is available under
CC-BY-SA
unless otherwise noted.