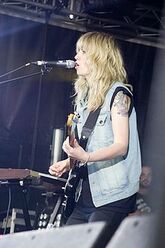 Phillipa Margaret "Pip" Brown (born 1979), better known by her stage name Ladyhawke, is a remarkable indie rock musician, singer-songwriter and multi-instrumentalist born in New Zealand.
Brown's debut solo album, Ladyhawke, was released on 22 September 2008 through Modular Recordings and topped the RIANZ Albums Chart. At the ARIA Music Awards of 2009, Ladyhawke won Breakthrough Artist in both album and single categories. In the same year she also won the International Achievement Award and the People's Choice Award among other awards.
Brown's second solo album, Anxiety, was released in May 2012, and her third solo album, Wild Things, on 3 June 2016.
Ladyhawke also also a Wikipedia page.